Welcome
Our pure essential oils are revolutionizing the way families manage their health. We harness nature's most powerful elements and share these gifts through our global community of Wellness Advocates.  We are the most Trusted oils because we are the most Tested oils.  #pursuewhatspure
Open a Wholesale Account During January with a special Power of Healthy starter kit and receive a FREE bottle of the New Air X!  
Bundle & Save HERE
Beginners will enjoy:
doTERRA On Guard® (5 mL)—protects against environmental and seasonal threats with essential oils known for their positive effects on the immune system when ingested.*
doTERRA Balance® (5 mL)—creates a sense of calm and well-being, tranquility and relaxation.
Frankincense (5 mL)—supports healthy cellular, immune, nervous, and digestive function when used internally.* When inhaled or diffused, it promotes feelings of peace, relaxation, satisfaction, and overall wellness.
Lemon (5 mL)—provides cleansing and digestive benefits and supports healthy respiratory function.* When diffused, it is very uplifting and energizing and has been shown to help improve mood.
Lavender (5 mL)—calms and relaxes when taken internally. Add to bath water or apply to the temples and the back of the neck to reduce away stress. Use to assist with restful sleep and stress management.
Deep Blue® Rub—soothes and cools topically where needed before and after your workout.
doTERRA Lifelong Vitality Pack® includes xEO Mega®, Alpha CRS®+, Microplex VMz®— maximizes your daily nutrient intake.
DigestZen® Supplements includes DigestZen TerraZyme® and PB Assist®+—supports digestion and optimizes your gastrointestinal tract*
Add New Power of Healthy products after 10pm January 7th and save MORE!
Bundle & Save:  Preferred Option 
Use non-toxic: cleaners, skin & hair care, and air fresheners while you manage mood & STRESS, support the immune system, fight inflammation and support all other body systems naturally. Disinfect naturally.  All with the starter kit below!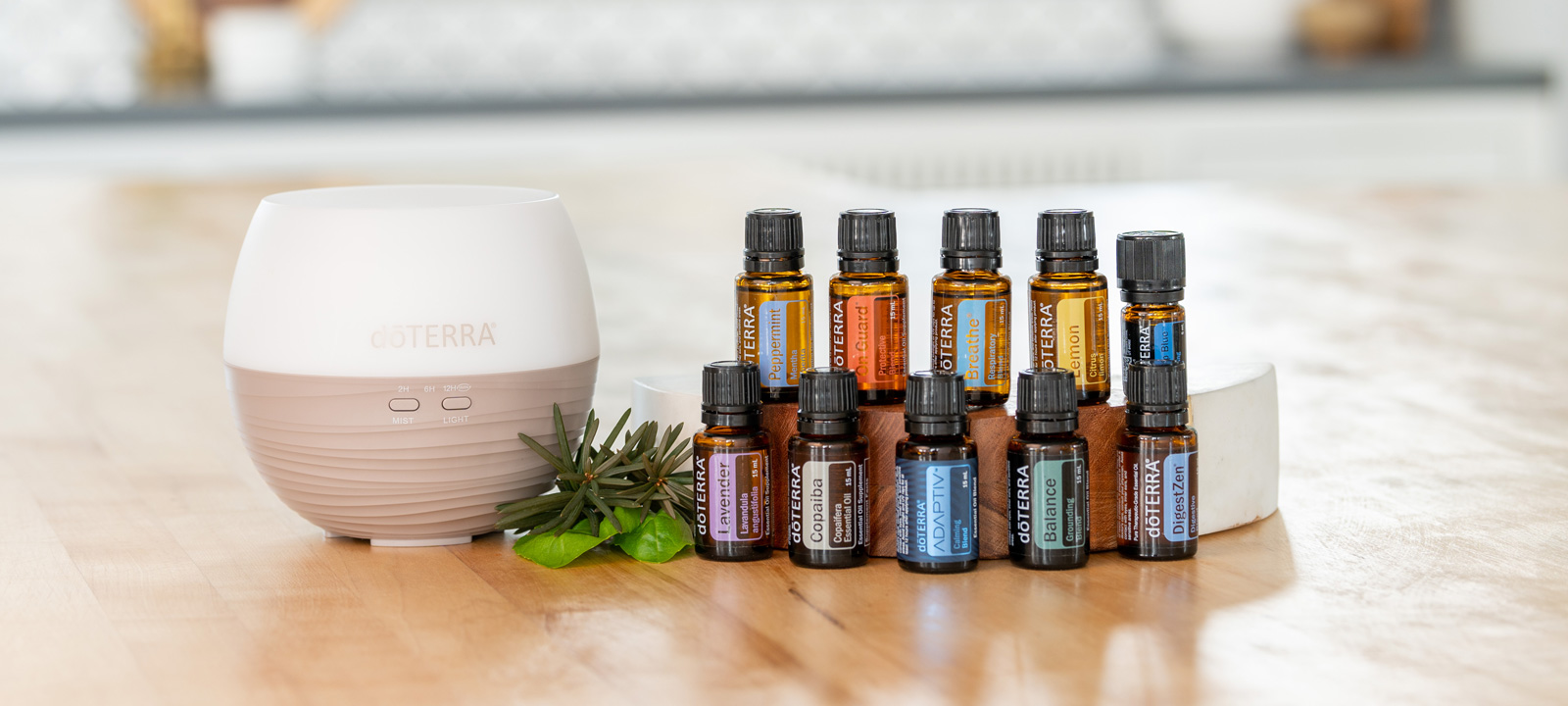 Purchase this kit in January and receive…..
FREE education to help you enjoy the most benefits from you membership!  Membership fee waived! 
SAVE 25% off any orders placed in the next YEAR with the 1st year of membership being FREE. Get started on your way to a healthier lifestyle TODAY!
January ONLY!!
Save 25%
Enjoy:
25% off retail prices
Reimbursement of shipping fees
Ships directly to your home
Shop conveniently on-line at your private secure website
No obligation to order monthly.  Minimum purchases Not required
Waive the enrollment fee of $35 when you purchase a starter kit
Plus….
🎒A Free goodie bag of samples
🍫Free 10ml roller blend of your choice
👩‍🎓Ongoing free education
👍Private social media groups
💻Educational Podcasts, webinars & live videos
📄Essential oil and/or business support
And MORE!   
No minimum monthly orders required. No Strings Attached!!
Ask about the Option to:
Earn up to 30% of all orders in product points to use toward free products

Free Product of the month
Added discounts and promotions offered each month
No added fees/No sales required
What is the Loyalty Rewards Program?
Host an Essential Oil Educational Class!
Invite your friends to learn about the health benefits of doTERRA Essential Oils.
Completely easy to do…..Just
Schedule a date, place and time for your class with Jeanne. This will insure a knowledgeable instructor will help your guests learn easily. This can be an in-person class or online class.
Make a list of friends and family you would like to help with the benefits of essential oils.
Invite your friends to enjoy a free sample that your instructor will provide, using an easy copy and paste script.
After they have enjoyed the free sample invite them to your class.
For each adult guest you have in attendance at your class you will receive one FREE sample vial to fill your keychain! Example: 8 guests = 8 vials, 5 guests = 5 vials.
No need to serve food. Water in glass containers is all that is needed. Your instructor will take care of the rest of the supplies for the class.
There is no "closing" for the class or "sales" to track.
Share us on your Social Media Sites
Follow us on our Social Media Sites